Centova Cast are two very popular radio control panels, this guide will help you decide which radio control panel is best for your setup. Technically speaking, they both serve the same purpose, you can stream live music from your computer, or create playlists and let the online AutoDJ stream your uploaded music, when there's no live broadcaster.
Centova Cast
Centova Cast is an advanced Internet radio stream hosting control panel. Regardless of what your level of expertise in radio is, you can manage an online radio station with ease. Just choose how many listeners you need for your station, you can upgrade as your audience grows. Choose how much disk space your AutoDJ requires to store your MP3's. You then click "View Package" to make your selection and have your radio instantly setup.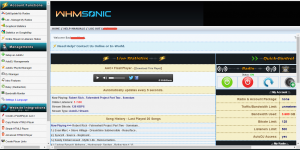 WHMSonic
WhmSonic is a very popular user-friendly WHM/Cpanel plugin that allows you to upload your MP3's and create playlists. With this control panel you can give live broadcasters and DJ's their own password and port. This way they can fade in over the AutoDJ on a separate port. This will prevent any stream drops/dead-air Plus the AutoDJ will take over broadcasting when the live DJ logs out of the stream.
WHMSonic has regular updates and you can switch between Shoutcast Version 1 or 2 or use as an Icecast stream, which you can't do in Centova. The WHMSonic team are currently testing Icecast + AutoDJ, they're also redesigning the AutoDJ play-list scheduling features, a new release is expected very soon!
Control Panels: Centova Cast vs WHMSonic
Centova cast vs WHMSonic? Which radio stream hosting Control Panel is right for you?
Key features Centova Cast
• Easy web-based stream configuration
• AutoDJ support with powerful playlist scheduler
• Drag-and-drop AJAX media library
• Comprehensive statistics and royalty reports
• Automatic stream monitoring/restarting
• Feature-rich, automatic station home pages
• Amazon integration to display albums
Key features WHMSonic
• Works with MP3 and AAC+
• Download radio scripts and tools
• Includes flash player embed code as well as links for Media Player, Real Player and Winamp
• Xfade on different port for live DJs
• Relay features
• Make your playlists with automix and shuffle feature
• Administrate your Shoutcast configuration and stream